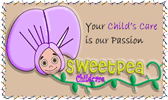 SweetPea Childcare offers an excellent developmental environment for your child. Prepare your child for the years ahead with our caring, safe, and educational environment.

SweetPea Childcare is a safe, nurturing environment where your child will get the attention and care that he or she needs. Your child's care is our passion! We are licensed in the state of Missouri as a group center daycare facility that holds up to 60 children from ages 6 weeks to 12 years of age. Our ratio of children to adults is always within state guidelines, and often even lower.

Nutritious meals are provided and meal plans are posted at the front entrance door. We serve breakfast, lunch, and afternoon snacks. Please, let us know if your child has any allergies or special food requirements.

If you are not familiar with our company and your first contact with us is online: We would be pleased to hear from you! Please let us know what your needs and questions are, we will be more than happy to help.